BETWEEN THE LINES

Featuring Local (York Area), Regional, and National Sports

This page was last updated: February 25, 2013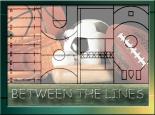 Between the Lines Archives

Fall 2007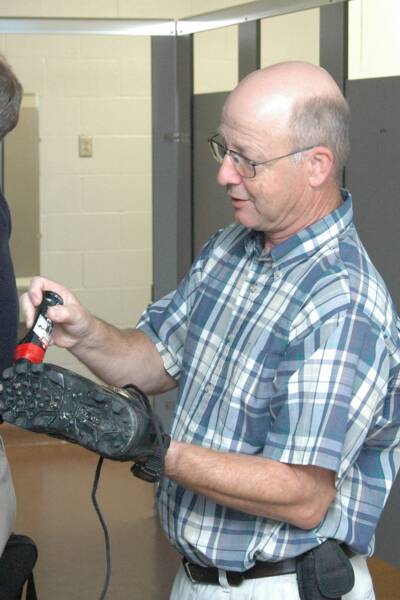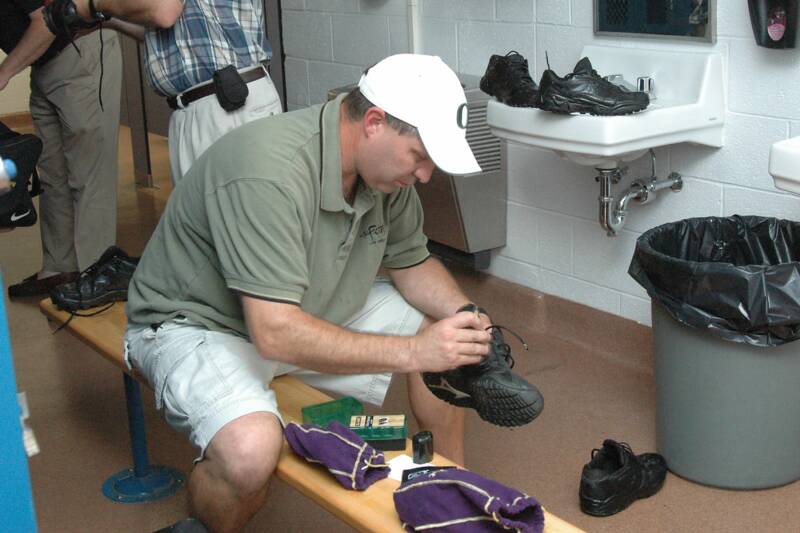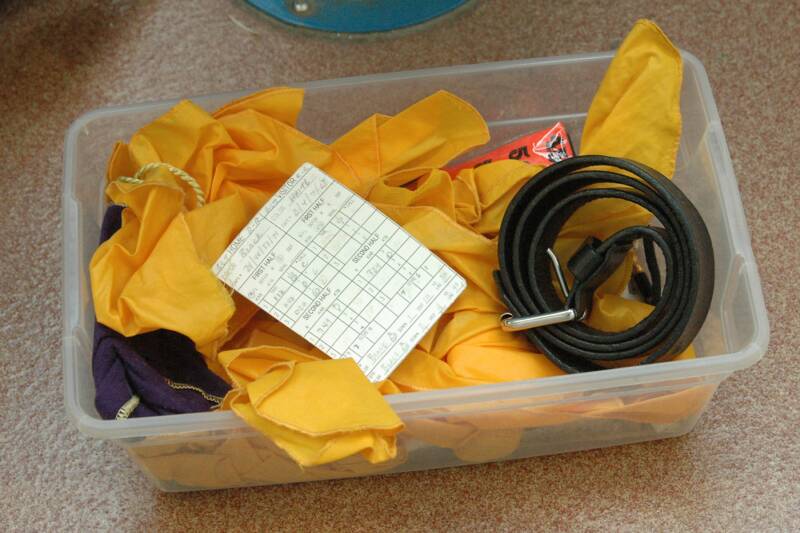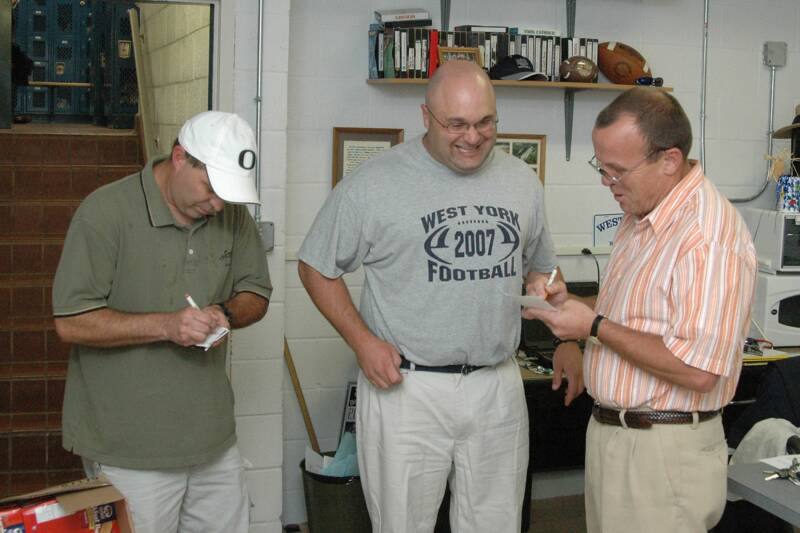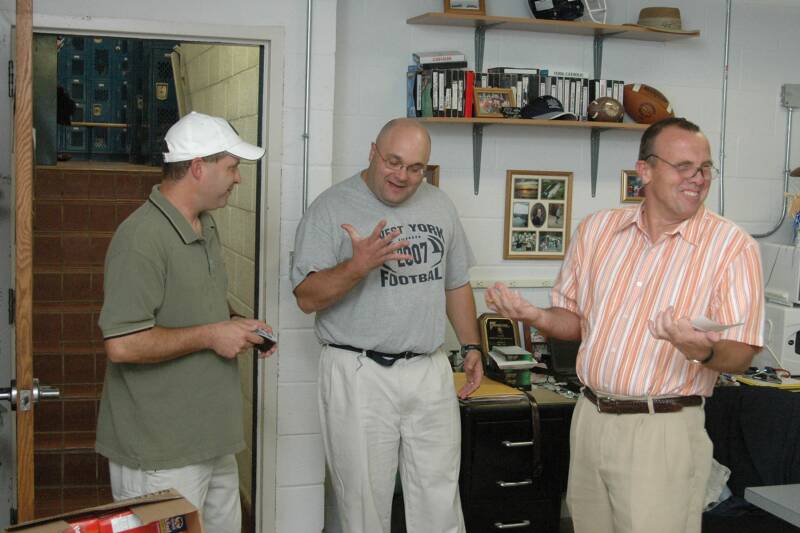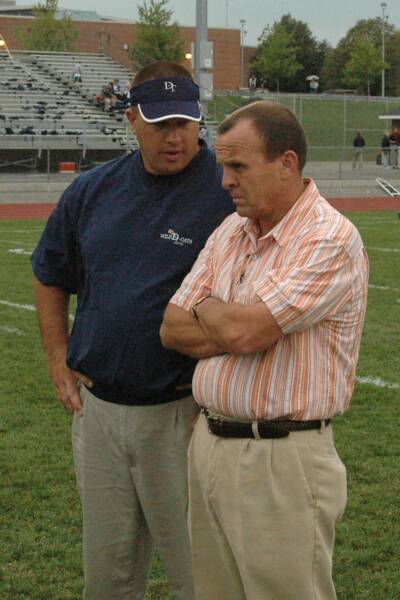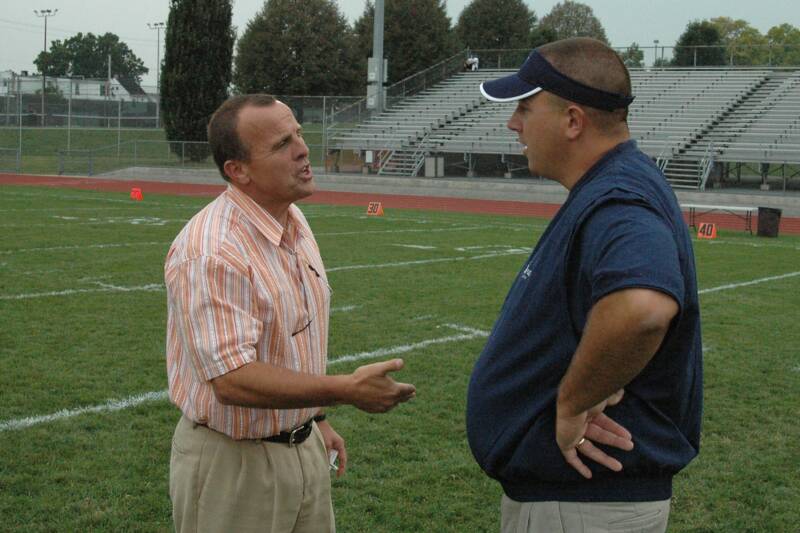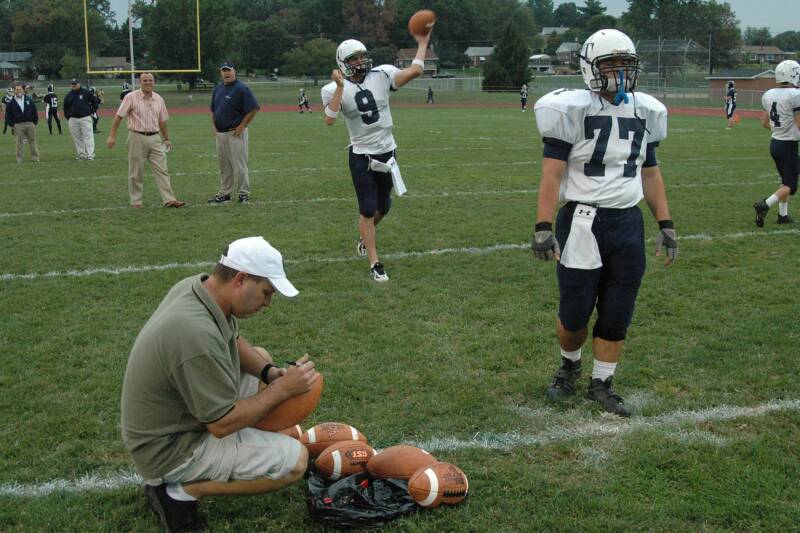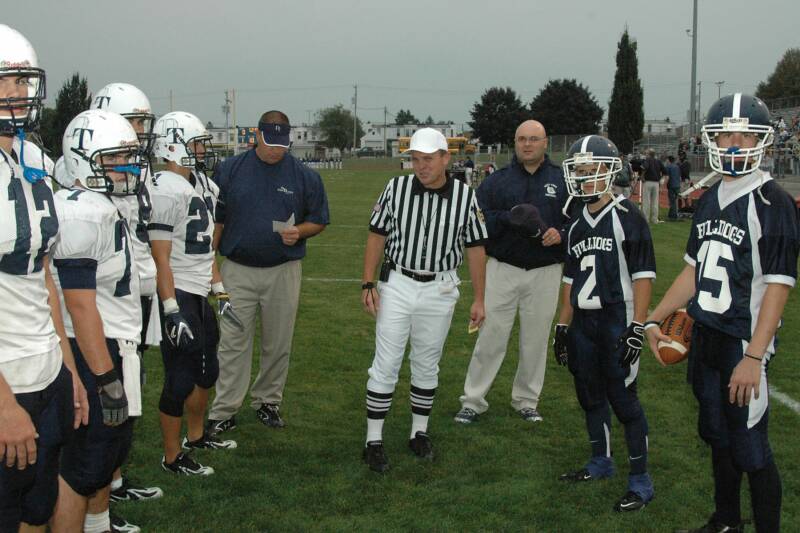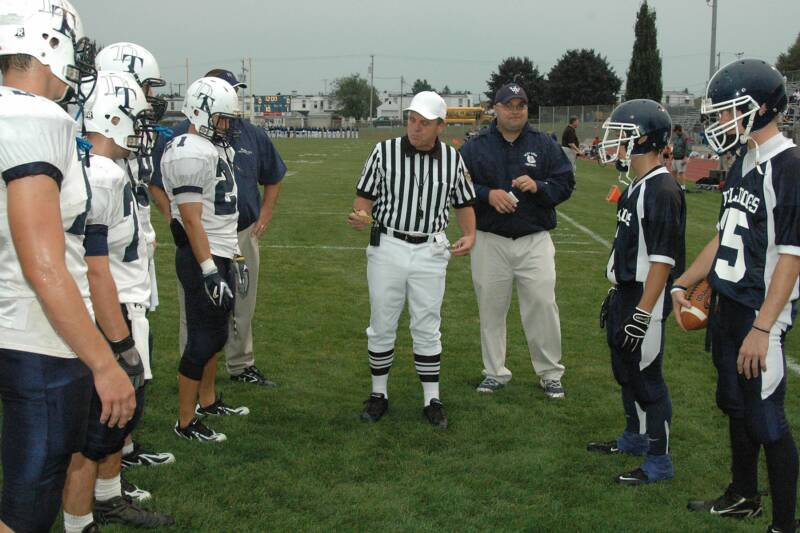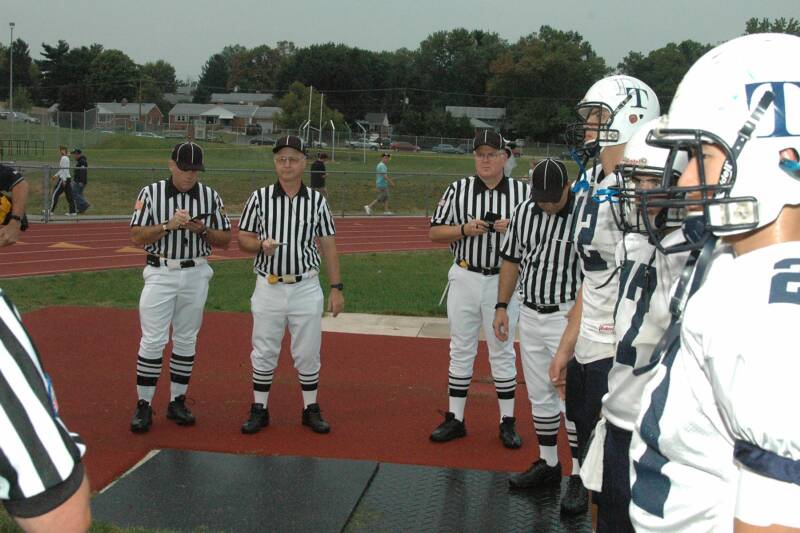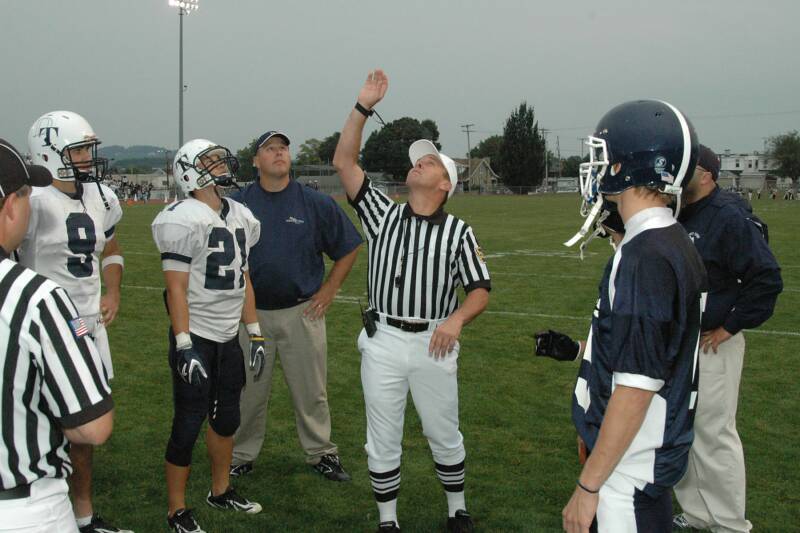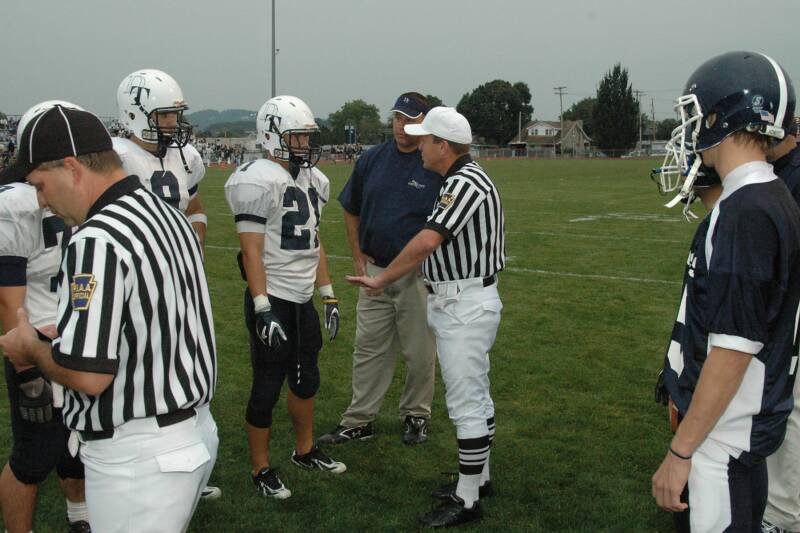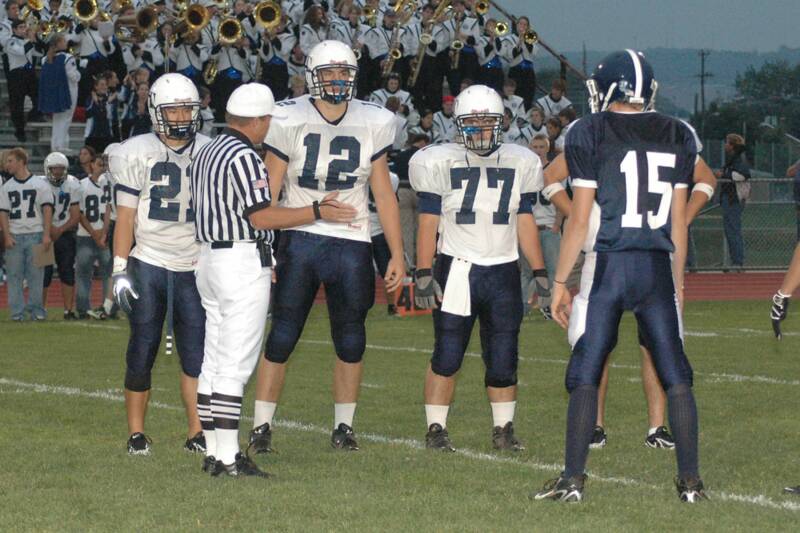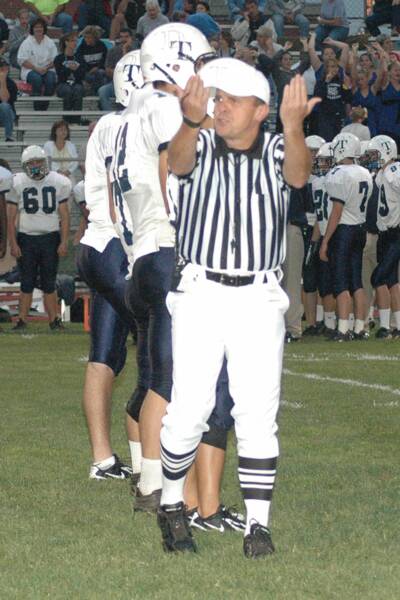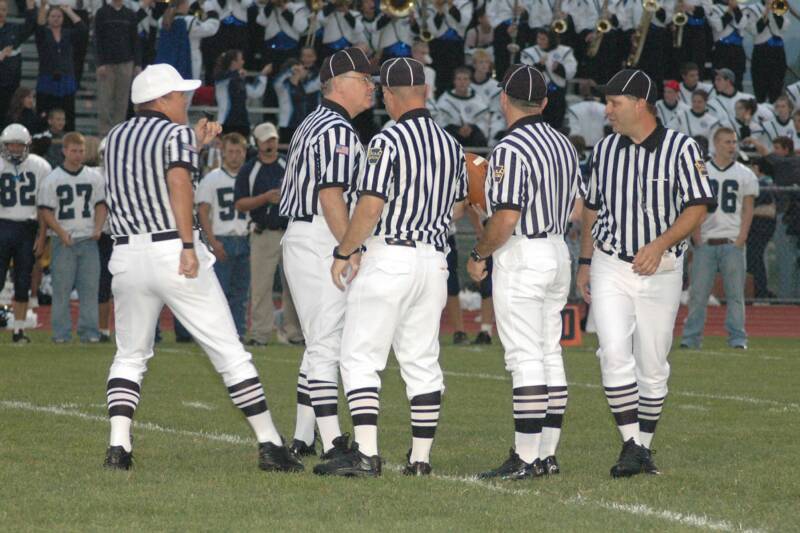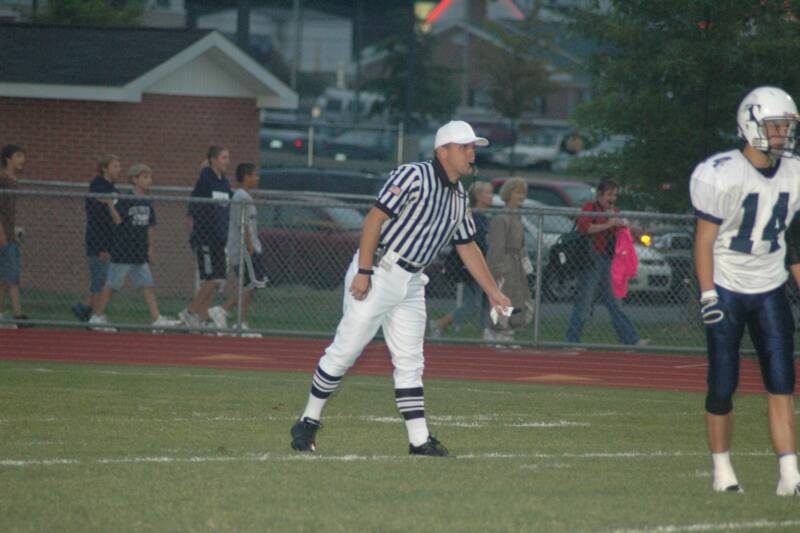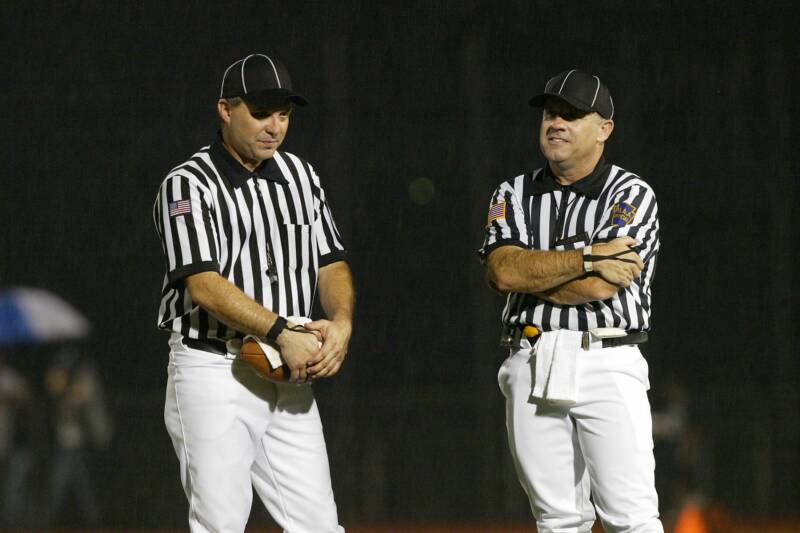 Ever wonder what it takes to officiate a Friday night high school football game? Between the Lines had the opportunity to follow the crew of veteran YAIAA official Rich Schieler as they took us behind the scenes working the Dallastown-West York game on a rainy Friday in September.

After the game was over, Schieler sat down with BTL and discussed some things that the average fan may not know about what it takes to get a game underway and running.

BTL - I'm sure fans don't think that you just show up and officiate but I also don't think they know the time frame involved for an official. Give us the rundown of the game day schedule from when you arrive to the end of the game.

Schieler - We are expected on site 1.5 hours before kick-off (5:30 pm for a 7:00 PM start). This gives the crew the opportunity to put the real world behind us, focus our energy on the game ahead of us, and get through our pre-game routines. Approximately one hour before game time, the Referee and the Umpire go and meet the head coaches. The rest of the crew (Linesman, Line Judge and Back Judge) discuss their duties. They also start to get dressed. After the coaches meeting, we all finish getting dressed and then we have a short pre-game mechanics overview, discuss plays and errors from last week and talk about the game at hand. For instance, if we have a team that uses an offense that hides the ball on multiple fake hand offs, we stress the importance of seeing the ball etc. If we expect a lively passing game we will review pass coverage etc. We are dressed and ready to go in order to execute the real coin toss at 35 minutes before kick-off which is when the teams are to leave the field. After the coin toss, we inspect the field and equipment. At 10 minutes before kick-off, we send an official to each locker room to get teams on the field no later than 5 minutes before kick-off. We do the mock coin toss at 3 minutes before kick-off and a game lasts from 2 to 2.5 hours, give the crew one half hour to shower and dress and leave. In all we spend between 4 and 4.5 hours on site for a game.

Umpire Dan Wolfe (above) and Line Judge Willis Tallman (right) polish their shoes before the game.

Schieler introduces his crew to the captains.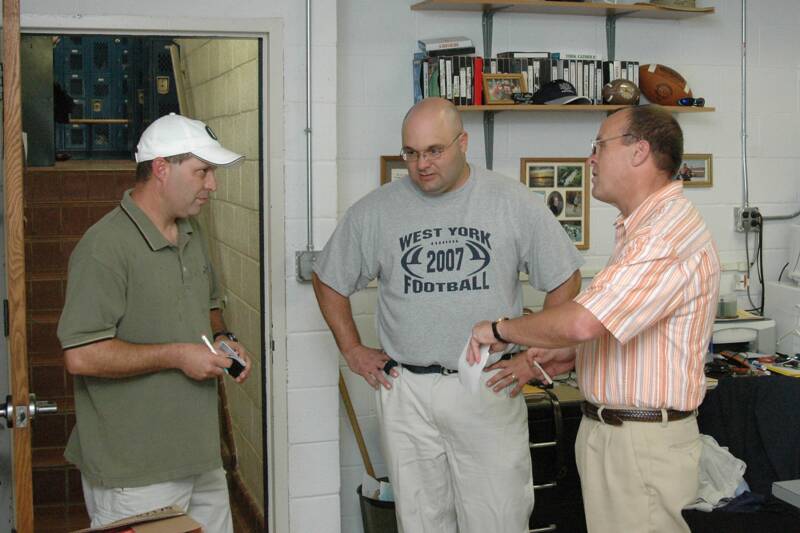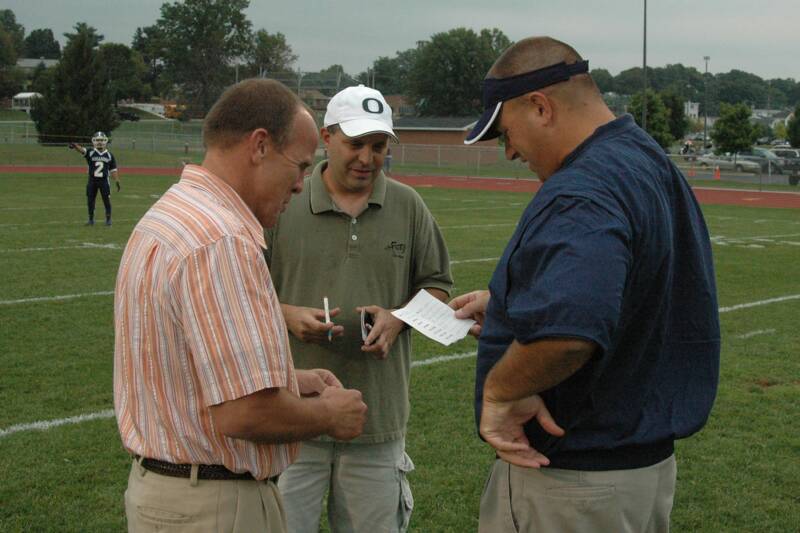 BTL - Back in my coaching days, I was involved in the pre-game coaches meetings. But, most fans don't know what goes on. What are the questions asked and what happens in that meeting?

Schieler - First question which may have been covered by Athletic Director but still asked of home team coach relates to any special events that evening. We ask both coaches for the name and number of captains, type of ball being used, any special player equipment that needs checked or that they need to provide written documentation for. As an example, eye shields can only be worn with a written note from a doctor and the principal. Hard cast on broken bones need a doctors note. Soft cast need inspected by the Umpire. We ask the coaches to let us know if they plan to run any unique plays (triple reverse, fake field goal etc,), we don't want to be fooled. We don't ask but usually get input on the other team. We usually spend some time on plays from previous games where they might have questions or opinions. Some we answer and some we politely decline. We then verify location of coin toss, it varies by school, and we head back and get dressed.

Schieler and Wolfe meet West York coach, Ron Miller in his office.

On the field, Dallastown coach Kevin Myers discusses a call from a previous game.

Wolfe marks the balls with his personal mark while the Wildcats warm up.

BTL - I left you guys in private when you got dressed, but, are there any pre-game conferences or discussions about assignments, rules, etc. before the game? Or has going to "crews" made that any easier?

Schieler - Yes and yes. We still have a pre-game discussion however; with crews it is easier but we now focus on those things that happened to us last week and what we might expect from this particular game. It becomes more effective for us to discuss some plays or situations from previous games and discuss how we handled it and did we get it right. Crews has allowed us in my opinion to me more critical of each other in a more positive way.

Schieler's crew is ready to start the game. The "Crew" on this night:

Schieler - Referee

Dan Wolfe - Umpire

Jim Cooney - Linesman

Willis Tallman - Line Judge

Mike Serach - Back Judge

BTL - From an administrative standpoint, talk about getting the game started; i.e., band off the field, national anthem, teams on the field, etc.

Schieler - Largely the responsibility of the home team. IF you read the league rules which addresses all of this, I think everything should be done except for mock coin toss 3 minutes before game time however, at most places the National Anthem is sung or played after the mock coin toss and that doesn't bother anyone. The home team is responsible for clearing field in time to start both halves.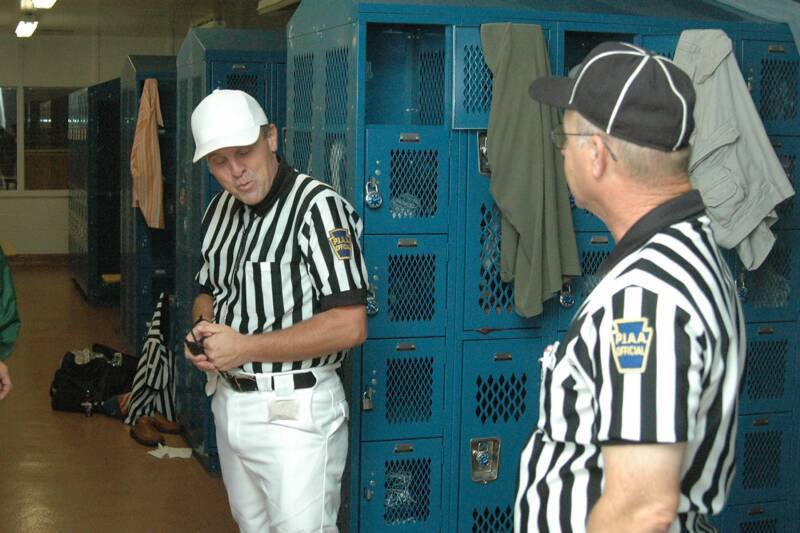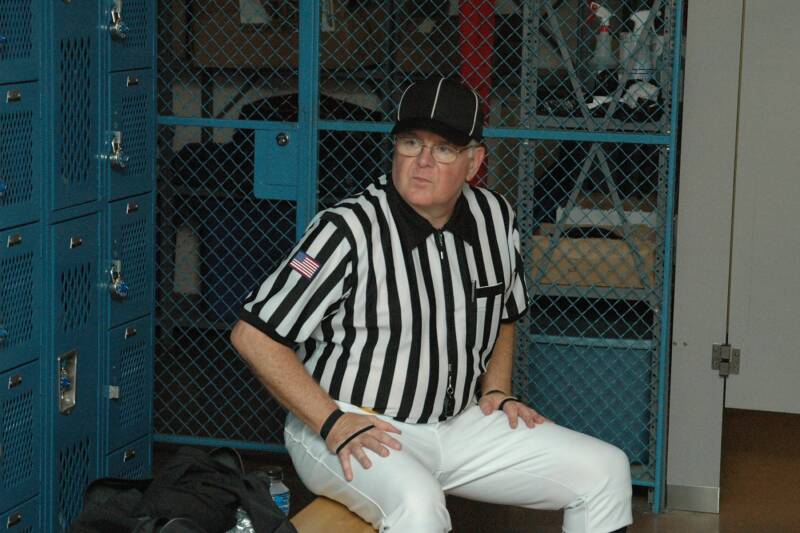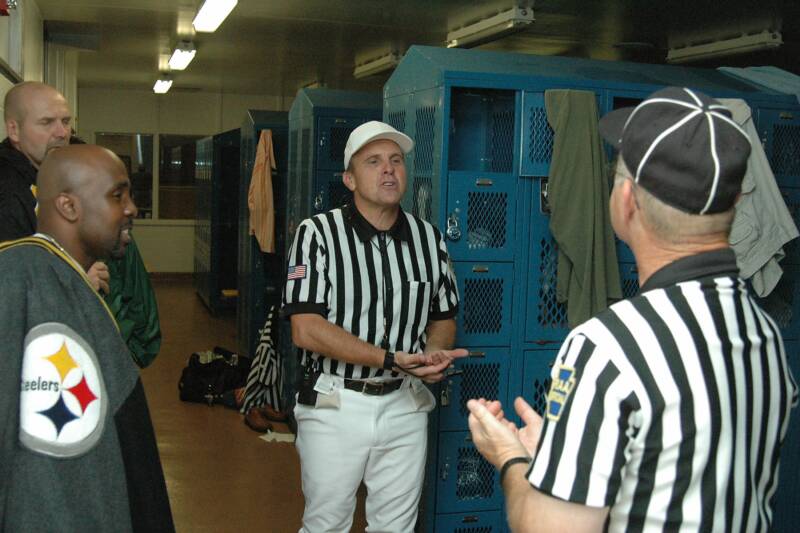 Schieler and Tallman discuss a first half call during the halftime break. Believe it or not, they are not arguing!!!

Linesman Jim Cooney listens to the conversation.

BTL - Once the game has started, as the referee, what are some of your responsibilities?

Schieler - Besides knowing the rules, communicating the penalties (and trying to use a microphone on the tv games!!!), once the game starts, we pick up weather decisions which is not really our responsibility until game time. The rule book makes the "Referee" the final authority on delaying because of weather, injury issues, unruly behavior that effects the game, etc. A good "Referee" would do all of this in conjunction with the whole crew.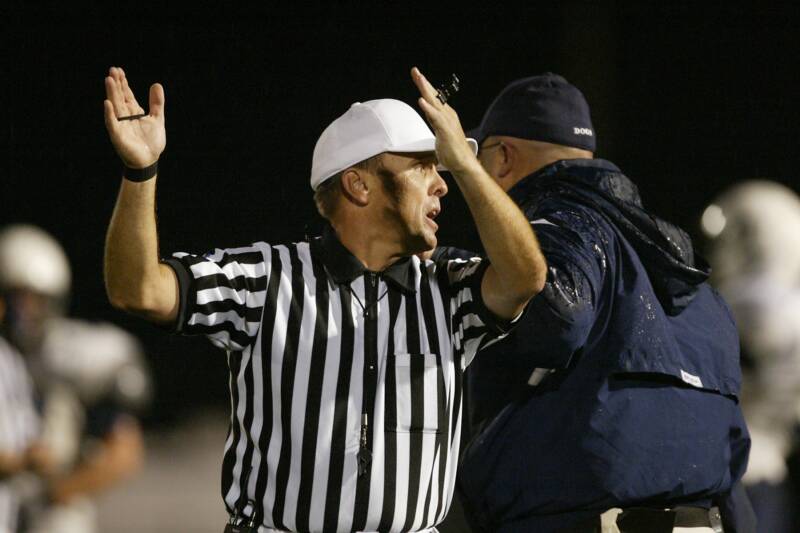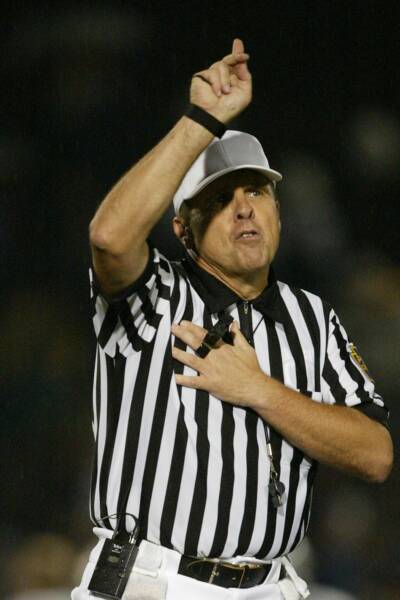 Schieler consults with WY Coach Miller before signaling a time out.

BTL - Are there weekly reviews/evaluations/meetings, etc.?

Schieler - First chapter meeting usually occurs the fourth Thursday in July. There are weekly meetings through the first Thursday in September and then we go every other week until  Thursday before last game. In addition, we have individual crew meetings in the off weeks to review our own game films and self evaluate each other, this may be the best benefit to come out of crews. It is much easier to review our work in front of 5 to 9 people than 50+ in the chapter. When I was the rules guy, it was always easier to review my own mistakes in front of the chapter than other people's mistakes. We all make them, we all don't want to admit it. Two meetings that we have each year in the pre-season are called scrimmages by the world but they are great teaching tools at the beginning of each year. And I guess you know that there are several occasions in the off-season for clinics, conventions etc. The PIAA yearly convention has had a session on football put on by NFL guys for about 5 years in a row and trust me it is very informative.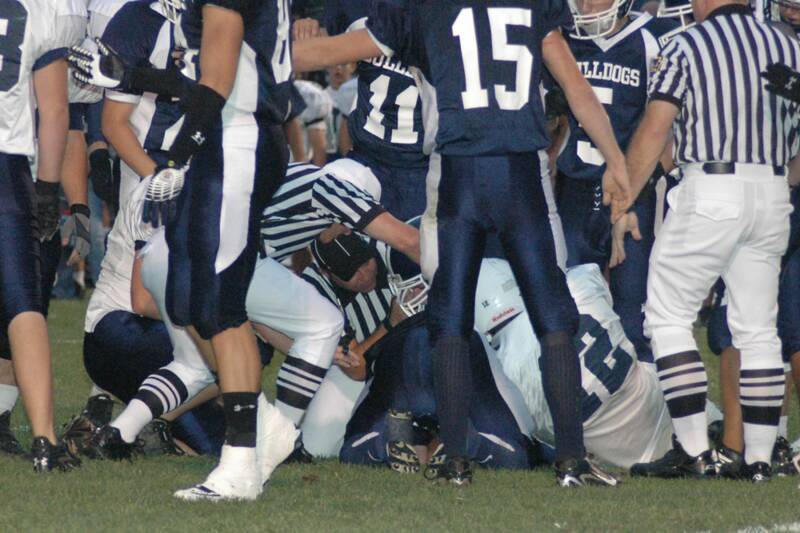 Think it's easy being an official? Would you like to be at the bottom of this pile?

Our thanks to Rich Schieler and his crew for allowing us a behind the scenes look at officiating.

Interested in becoming a PIAA football official?

Check out the York-Adams football officials website